How to Choose the Right Business Model for Your App
If you have landed on this page, chances are you are struggling with choosing the right business model for your app. And considering the number of app business models out there, rest assured you're not the only one going through such a dilemma. So, in the next 10 - 15 minutes, we are going to familiarise you with all the different app business models out there, before telling you how to choose the right one for you.
Understanding the Different App Business Models
Before we tell you how to choose the right business model for your app, we would first like to go over the different business and revenue models that modern-day apps go for. That way, when it comes to choosing the right one for you, you will be aware of all the app revenue models available to you.
Brand Model
This model is generally used by large and established companies, which are usually happy to make the app free for users. Depending on the goal of the app, it can either be free without monetisation, with the goal of boosting the company's brand image and reputation, or it can be used to sell goods and services. Aside from that, offering the app at no cost makes it more appealing for new users to download and try.
Freemium Model
The Free/Premium model, offers a basic version of the app for free while providing further additional features and extras, or functionality through a premium version that app users can purchase. The goal of this model is to attract more new users with the free version, a percentage of which can then be converted into revenue from paying customers.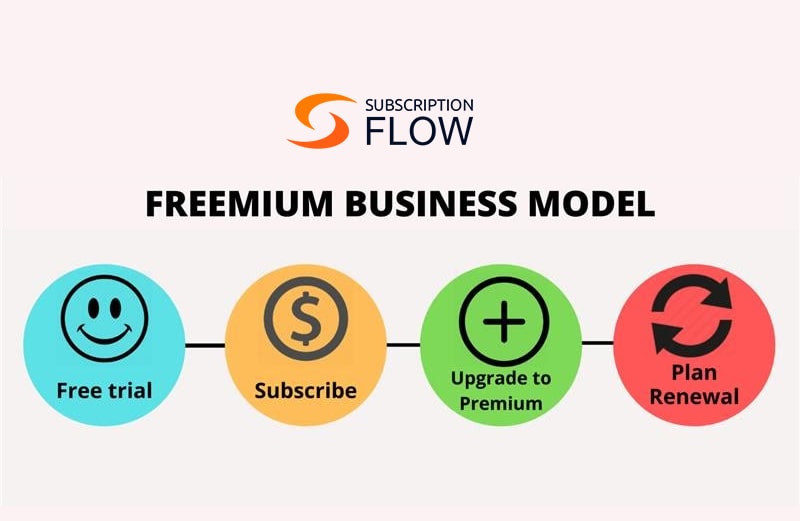 (source: SubscriptionFlow)
This model is particularly effective for freemium apps that offer ongoing value, such as productivity tools or content platforms. If that's the case, then you should consider which features to keep free. Consumers might be put off if they have to pay for the most basic ones. Advanced features are more likely to be valued by the right audience and a free trial might make app users more considerate to them.
Research has shown that the free trial model is 20% to 30% more successful in converting consumers into paying customers than the free model, which is free for an indefinite period of time. This is most likely due to the users valuing the complete functionality of the paid products that are on the market.
Subscription Model
The Subscription app business model can be either auto-renewable or non-renewable. It involves charging users a recurring fee (annually, monthly, or weekly) to access the app's content or services. Usually, this business model would be most suitable for mobile apps that provide continuous and consistent work with selected, high-quality content and premium features.

(source: AppsFlyer)
Ongoing income from successful paid apps is almost certain if you have a well-thought-out project, resources, and features. With this paid app business model, however, consumers are being charged on the app regularly, until they cancel it themselves.
The non-renewable subscriptions are charged only once and they can include all kinds of streaming content, services, and passes. Depending on the market you can also decide if you want to grant access to multiple devices when the service is purchased.
If you decide to use the subscription business model, check out our definitive step-by-step playbook on building & scaling subscription apps. Get your copy here
In-App Purchases
In-app purchases are associated with selling virtual goods, extra lives, and power-ups for games, or other digital items within free apps. Gaming apps often utilise this model, creating an enticing user experience that encourages users to make small consumable app purchases, for in-game enhancements and progress.
(source: Adjust)
Another selection of apps that choose this business model are ones where customers can purchase non-consumable or expiring goods. For example, users pay only when they are using photo editing services or filters that once purchased do not run out or expire.
Pay-per-Download Model
In the Pay-per-Download model, app developers say users are paying a one-time fee to download the app from an app store. This model is less common nowadays, but can still be effective for paid apps with a strong value proposition or unique features.
While the paid downloads app business model is outdated compared to the surge of free apps with in-app purchases or advertisements, the paid download app revenue model is still being used. It tends to be chosen from apps that can provide particular rare tools and distinctive content.
The downside is that it could be challenging to convince users to pay for something that already has numerous free alternatives out on the market. If you do however convince customers to select you, you should be aware that they would probably have higher expectations and regular improvements would be crucial.
Ad-based Model
Apps using the Ad-based model work by displaying advertisements to users. You can generate revenue by presenting numerous types of ad formats, such as banner ads, interstitial ads, rewarded videos, text ads, and others. 
(source: MobileAction)
Careful integration is essential to maintain a positive user experience while benefiting. Most often the usage of the app is entirely free, but the assets come through the presentation of advertisements inside the application.
Affiliate Marketing Model
The Affiliate Marketing business model for apps promotes other products or services, and when users make a purchase through the app's referral links, the app earns a commission. You would be collaborating with other businesses or platforms. This model works well for apps in niche markets with engaged audiences.
In this case, the audience for your mobile app would be very specific and you need to be aware that the content should be very explicit, targeting only customers who are genuinely intrigued by particular products. Providing information to businesses and companies seeking such content also increases earnings.
Data Monetisation Model
Apps choosing the data monetisation model should be aware that this model requires transparency towards data above all to maintain the user's trust. This app business model provides access to the applications for free while you are gaining revenue by either supplying source data to third parties or using it for your own benefit. You can use this monetization model also to gather valuable information for personal advantage which can lead to growing and improving your business.
You can collect data from users in numerous ways. Letting the consumers of the app complete forms and surveys is a great choice. They can contain details such as email or name, or they could be questions about preferences. You can also collect location data and many more with UDIDs (unique device identifiers).
Companies are eager for data, so if you decide to use this business model to sell information to third parties, you can easily generate revenue and increase your assets. Data helps businesses reduce unnecessary spending and create essential and needed products. It can also help them to work on more efficient strategies depending on the niche they are in.
You can sell your data by searching and reaching out to research companies, advertising companies, and others. Another way you can sell all the data that you collected is to sell it to the government, or even sell it by hiring a selling company, or by joining a data marketplace.
Crowdfunding Model
This business model for apps is highly unpredictable as it relies only on donations gained revenue. Don't give up on it yet, because it can be a viable way to start a new business. 
It has become very popular in the recent years and works as people voluntarily contribute, by supporting the app's maintenance and development. It primarily focuses on users deeply passionate about a specific niche. In most cases, the donations are either given as an option for specific amounts or the donors can pick the desired donation amount.
Sponsorship Model
In this model, the app functions as a platform enabling advertisers to connect with their intended audience using different forms of promotional content. Access to the app is granted for free and the assets are being monetised by sponsors, who in return increase their brands' visibility further. The content can again include sponsored posts, videos, banner ads, and others. 
The best way for this app business model to work is by displaying selected products and services that would intrigue the app's users. It is important to keep the advertising relevant unless you want to risk having annoyed customers. Excessive advertisements can also become overwhelming and lead to a negative user experience.
To ensure the consumer's satisfaction and engagement you would be required to find a balance between the sponsored content and the app's core features. The advantage of this app business model is that the users can enjoy the application without any financial commitment, which usually attracts more users.
SMS Marketing Model
The SMS Marketing model includes the use of a mobile app to optimise and facilitate communications between businesses and their customers. This model has proven to be effective by engaging with the user, promoting products and services through text messages, and delivering timely information. 
The recipient subscribes voluntarily to particular brands and businesses, enabling them to send text messages. The key factor to developing this app business model is the ability to deliver worthy content efficiently to the user. 
The app maintains a database of the preferences, activity, and other information of the subscribers, which helps to personalise all the features and content that is being delivered. Making sure that you stick to the SMS marketing regulations and gain the user's consent to avoid any legal problems is absolutely crucial.
Email Marketing Model
The Email Marketing business app model involves building and utilising an application, intending to strengthen email communication and optimise commercial-related tasks via mobile devices. This model offers users more convenient and efficient methods to handle their communication and work tasks while on the move by the long-established presence of emails.
To monetise your app via email marketing proficiently there are a number of essential elements that you need to think through. That would include the integration of tools such as task management and calendars. You would also need to carefully think of a plan on how to present the application in a way that keeps your audience engaged.
The advantage of this app business model is that users have access to the emails anytime and once the productivity and management of the emails are merged the consumers won't have to be switching between different apps.
You should keep in mind that this model would be challenging, as the email app market is pretty competitive and there are various established platforms that are providing valuable content to their users. That said it can be difficult to convince customers to switch to your new app once they are used to already familiar email applications.
Licensing Model
The licensing business app model stands out with various benefits for both the developer of the app and the different companies and organisations. 
This model includes granting rights to other businesses to use, adapt, personalise, and even make over the app so that it meets their specific requirements. This often involves handling the license for a fee or a percentage of the the app revenue made. The agreements between the parties can sometimes be complicated and might include negotiations over the terms and conditions, the prices, and more.
A high standard and quality must be maintained at all times by the developers to ensure the continuous growth and progress of the application. Unfortunately, sometimes it can be challenging to find a balance while you are trying to meet all the required customisation, additional features, and preferences.
To succeed with this app business model you would need to come up with a very flexible project for most of the functions to allow enterprises smooth and straightforward integration to the application. Clear and transparent agreements are a key factor here for smooth relationships between businesses. Commitment with careful planning, systematic support, and regular requests for feedback you can become successful and preferred within the market.
How to Choose the Right Business Model
Before you choose the right business model for your app, there are several things that you should consider. Some of them include:
Your Target Audience
You need to understand your target audience's preferences and behaviours. A gaming app's audience might respond well to in-app purchases, while a productivity app's users would prefer a subscription-based model.
If you decide to use a paid app model or a free app business model it's crucial to focus on user satisfaction, engagement, and delivering value. Whichever app business model you decide on you would need to carefully plan how to understand them and continue to adapt your approach based on user feedback to success.
Understand Your App's Value Proposition
Align the chosen business model with your app's value proposition. If your app offers ongoing utility or exclusive content, a subscription model could be appropriate. If it's a one-time-use app, consider a pay-per-download model.
Competitive Landscape
The competitive landscape covers the fast-paced environment approaching the market with various strategies and well-thought-out projects. Researching your competitors and the business models they use would be required. Boost your global mobile app revenues by offering a unique value under a business model that stands out in the market.
User Engagement
Consider how often users will engage with your app. Apps with higher engagement rates might benefit from in-app purchases, while those used less frequently could thrive with a paid subscription model as that keeps users attached to mobile apps.
Long-Term Viability
Evaluate the sustainability of your chosen model over time. Would it provide consistent revenue, or will it become outdated as the customers' preferences change? Once you have an answer to that question, figure out if the business model you have chosen is the right one for you.
Conclusion
Selecting the right business model for your app is of crucial importance for its long-term success. Each model comes with its challenges and strengths, so you should take the time to explore and analyse your app's goals, target audience, and market trends before settling on a business model. By placing these factors in line, you will be well-equipped to choose a business model that generates revenue and enhances the overall user experience.
Read More